Make your customers cry?!
Apr 7th 2020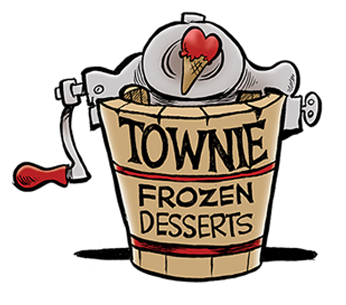 Here's a feel-good story from one of our customers - a scoop shop called Townie Frozen Desserts.
Stephen Gore and Robin A. Flint have been in operation for a couple of years now and have been extremely pleased with how Froconut® Original Coconut Frozen Dessert Mix has turned out for them. But, then a couple of their customers' reactions took it to the next level.
This is their story in their own words:
"We had a customer try our Chocolate Oreo non-dairy ice cream [made with Froconut®]. She took a bite and got very quiet. She then tried to speak and choked up. Then, a single tear rolled down her cheek. Turns out she had not had ice cream in 13 years due to a late onset lactose intolerance. Yes, this was her first ice cream in 13 years. You would cry, too."
"Then, there is the 'Grandpa Story'. One sunny afternoon at the Plymouth Farmers Market, we served a nice older man with his brood of grandkids. It seemed that every one of them had an allergy of some sort. One was Lactose intolerant – check. One was allergic to peanuts – good to go there. No eggs allowed – no problem. He turned to the kids and said "OK, everybody can get whatever they want!" We served them up, and they went to sit on the grass and enjoy their ice creams. The man came back and thanked us - three times! The third time, he gave a two-handed handshake to Stephen and told us, with tears in his eyes, that this was the first time he was able to take all his grandchildren out for ice cream at the same time."
This was the moment when a passion turned into a mission for Stephen and Robin.
Mami's Gelato is in the smile-making business, and we have been making sure that with every lick there's a beautiful set of pearly whites to go along with it. It has been our joy working alongside all of you to make this happen. This was our mission.
But now it seems we are also in the tear-making business!
And so should you. Make your customers cry - with joy! - by having the best dairy-free options available!
It literally moves the Mami's Gelato team to tears knowing that others are impacted by the work we do. Our mission has been to provide an opportunity for not only vegans to indulge in a decadent treat without compromises, but also to allow those with dairy allergies to walk into a shop and know for certain that they too are being represented. We are extremely grateful to Townie Frozen Desserts for their commitment to these customers and allowing us to align our mission with theirs.
With a lot of love and well wishes,
The Mami's Team
For details on the original testimonial by Townie Frozen Desserts, please click this link to read more.
Have a story similar and want to tell us about it? Email us at info@mamisgelato with the subject line TESTIMONIALS and we'll make sure you and your customer(s) get recognized!
Photo Credits:
Townie Frozen Desserts