Antney's Ice Cream
Posted by Amy Fender on Jun 30th 2022
Hello, Friends! Amy here; if you've called during the day or visited our booth at the NAICA convention in the last few years, you've probably talked to me. A few weeks ago, I was asked if I wanted to write a blog entry for our website. I knew immediately that the answer was yes, and I already knew what the topic would be: I wanted to visit one of our customers. My partner and I were planning to go to a horror movie convention in Pittsburgh, and Pittsburgh is home to Antney's Ice Cream.
I will always have a soft spot for Antney's because the owner, Anthony Ciotti, was one of my very first customers when I started working at Mami's Gelato. It was a conversation that would become a repeated experience: a reluctant ice cream store owner is considering offering some non-dairy products because of requests from customers and/or family members. Anthony was calling because his daughter firmly believed they had to offer a dairy-free option. Because I have my own dad who often needs some convincing to consider other perspectives, I was immediately sympathetic to Anthony's dilemma.
Sometimes the process of persuading a reluctant store owner that having a dairy-free option available is actually GOOD for business is like trying to bathe an angry cat. Fortunately, Anthony was charming and won me over right away with his friendly personality. It was a lovely first customer interaction for me as a new employee, and it made my transition into my new job at Mami's a lot easier. I will always be grateful to Anthony for this, so when the opportunity to visit Antney's and write this blog presented itself, I couldn't pass it up!
Antney's is located just outside Pittsburgh in a nice little suburb called Westwood. It was on our way out of town, so we saved it for the last day of our trip. Since Antney's didn't open until 5, we took some extra time to explore the Carnegie Museum - I highly recommend it. I love Pittsburgh overall, but the museum was AMAZING. I needed at least another full day just for the gem and mineral exhibit alone. We did a short and sweet tour of all of the exhibits, and then started our drive to Antney's.
On the way there, it smelled like all of the sweet honeysuckle in the countryside was in bloom and it was HOT and I was SO ready for some ice cream! We eventually pulled up over a little tree-covered hill, the leaves opened up to a sun-drenched business plaza below, and there sat Antney's, beckoning like a cool oasis with their bright blue awning and signage.
---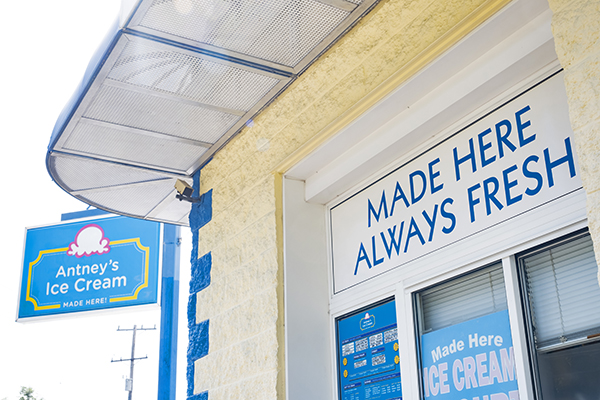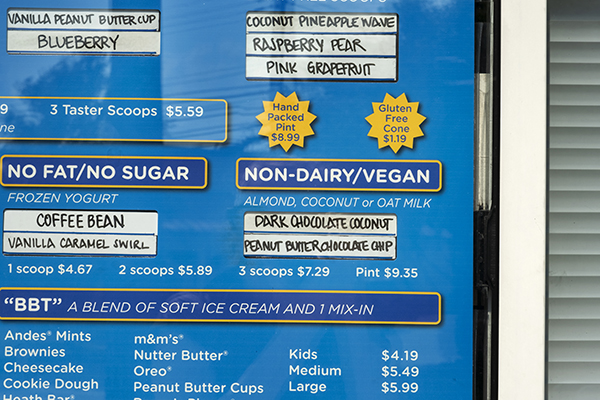 ---
We'd arrived a bit early, and so I took the opportunity to take some photos while we waited for manager Vicky and her staff to finish the opening procedures. In addition to everything else she had going on, she was also training a new employee that day, and so I wanted to stay out of her way as much as possible. I had already spoken to her on the phone during a calmer moment, and she was kind enough to spend some time talking to me about her time at Antney's. Vicky said she's been with the business for 15 years. In my experience, when someone stays at a job for that long, it's usually because it is a great place to work, and the people are good. When I told her the reason for my call, she told me I had chosen the right place, as "there's no one better than Anthony and his wife".
Finally it was time for ICE CREAM! The two vegan offerings Antney's had available that day were Dark Chocolate Coconut (made with Froconut®) and Peanut Butter Chocolate Chip (made with Almondice™). I couldn't decide, so I got both.They were both SO GOOD and refreshing, especially after standing out in the 88 degree heat shooting photos! The dark chocolate was smooth and the flavor was incredible, and the peanut butter chocolate chip was creamy and rich. The best thing was eating them together, though - I made the correct choice in getting both. There was a man in line behind me who was picking up something for his wife, whom he had on speakerphone. She was also looking for something plant-based, and was having a difficult time deciding between the two flavors (she eventually went with the peanut butter chocolate chip).
---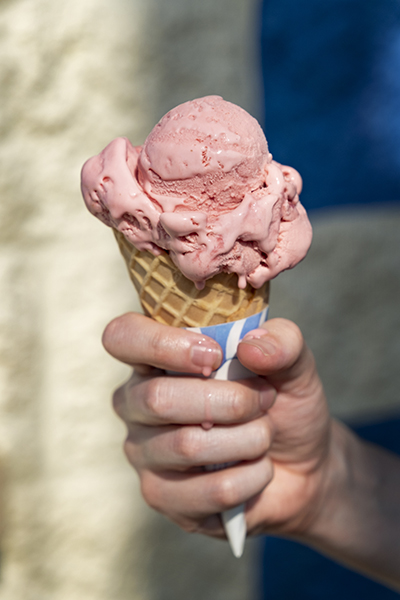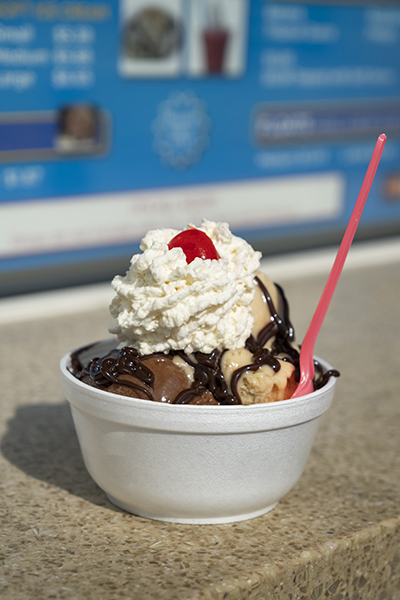 ---
I have to give a shout out here to my partner Patrick for so patiently holding their melting ice cream cone while I photographed it - Thank you, Patrick! Patrick chose a dairy flavor - raspberries and cream; they said it was creamy and delicious. In spite of a bit of a wait in the heat before they opened, I think it was probably best that we showed up early; almost as soon as the open sign was switched on the cars started piling up out front and lines were forming.
As we left, Vicky and her staff were doing a great job of making it all look so fun and easy. I'd like to thank them for accommodating Patrick and I, and for their wonderful customer service, and thank you to Anthony for being a Mami's customer! We love to meet our customers, so if you'd like us to visit your shop, please let us know!
---
---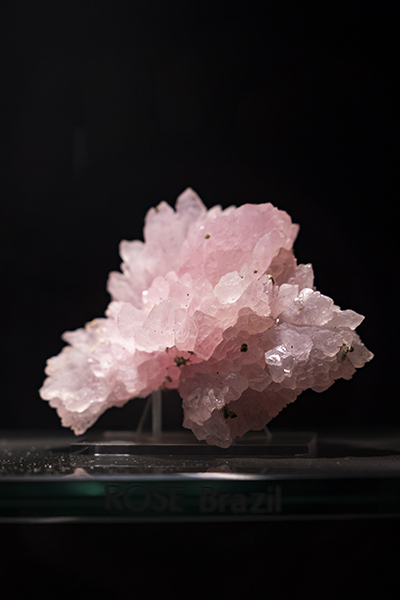 The dinosaur exhibit was the greatest thing ever to my inner 5 year old!
---
Photo credit
Photos by Amy Fender