Do your customers want your vegan frozen dessert to "taste like dairy?"
Posted by Naomi Posner-Horie & Phanor Lasso on Sep 2nd 2020
Do your customers want your vegan frozen dessert to "taste like dairy?"
The short answer is some might, but most of them probably do not. How do we know this?
We looked at the data.
Consumers of all sorts - vegans, plant-based eaters, flexitarians, meat eaters - buy plant-based milks that do NOT taste like dairy milk. Here's a graph to illustrate it.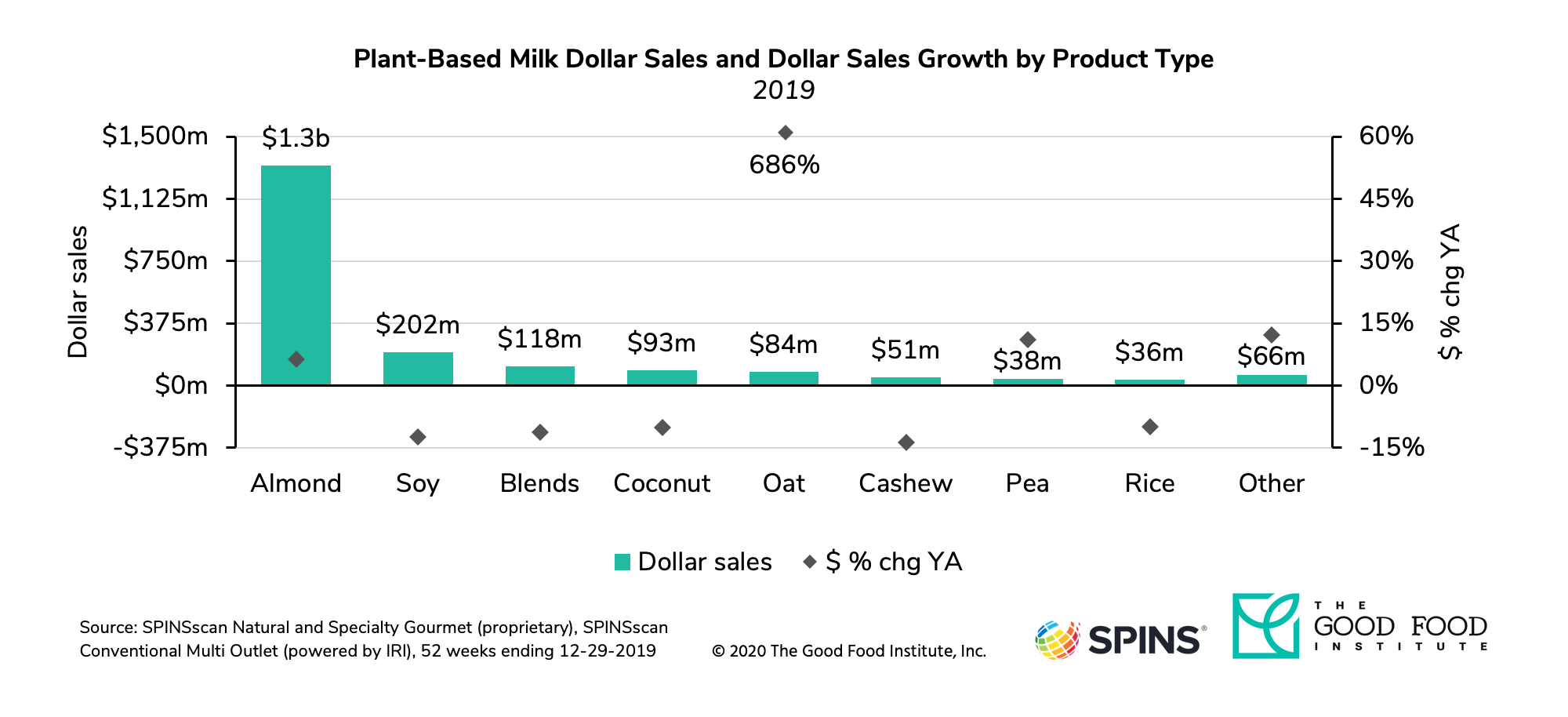 Nut and grain milks are a nearly $2B contributor in the vegan and plant-based food industry with oat milk being the fastest growing product by far with a 686% increase in sales from just a year ago! Not surprisingly, sales of our new dairy-free mix Oatrageous™ are proving the popularity of oat.
Consumers are voting with their wallets and the tally shows some clear winners, but vegans and plant-based people usually enjoy a variety of alternatives.
This is for milk, what about ice cream?
Cashew, almond, oat, and coconut frozen desserts are popular choices, and in addition to these are sorbets - still a popular category. These treats usually taste nothing like milk but still perform extremely well in terms of sales.
The plant-based frozen dessert category is worth "$336 million as of 2019", with dollar sales "growing 6% in the past year, and 34% over the past two years" as the diagram represents.
In an attempt to follow buyers shopping habits more closely, we latched on to data reported by The Good Food Institute, or GFI for brevity, with emphasis in the retail sector of the Food Industry due to available data they had on vegan and plant-based frozen desserts.
GFI collected purchasing information on 23 popular grocery store chains in the United States and found that frozen desserts have the highest vegan and plant-based product presence with an average of "110 frozen novelty products in any single retailer" confirming that dairy-free frozen desserts are in high demand.

How does this affect your shop?
These purchasing behaviors have translated into your scoop, cafe, and soft serve shops as demand for vegan frozen desserts have soared in recent years. No longer do we hear "Do you carry anything vegan?" but rather "What vegan flavors do you carry?" reflecting a clear turn of expectations.
Just as important, the question you as a shop owner ask is "how do these alternatives perform?" and "can I get a creamy consistency from them?" We have proven that you don't have to compromise taste, texture, or creaminess with any of these alternatives when it comes to creating your most popular flavors.
SHOP NOW and get a taste of the good life!
With a lot of love and well wishes,
The Mami's Team
Please tag us in your success stories @mamis_gelato or send us an email: info@mamisgelato.com We'd LOVE to hear from you!
The Good Food Institute. (2020). The Good Food Retail Report: Benchmarking the top U.S. retailers on plant-based sales strategies. Washington, DC.
Photo by Angelina Litvin on Unsplash